Friends, Fleetmates and starship captains. Welcome to another edition of the 101st Fleets "State of the Fleet" for the month of November 2014, the 101st Fleets one stop shop for news and cool things happening within the 101st Fleet and abroad 🙂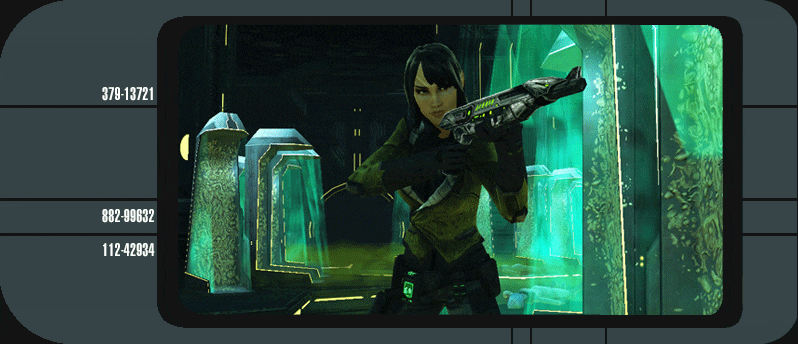 Commander Matthews Soverign class USS Forward Unto Dawn is the 101st Fleet ship that will be featured next. At this time the article is still in draft, but stay tuned ladies and gentleman for his ship being featured :), I also hope everyone has had a chance to read Captain Confuto's USS Riviera's article. Its a great read.
For the Featured Ship for the month of December poll, Vice Admiral Janeway's Akira Class USS Devastor has won the poll with a overwhelming majority of the vote. We will be placing Vice Admiral Janeway's ship onto a backlog for articles.
The reason for this is that Captain Bill has resigned or has withdrawn from doing administration work for the fleet website due to real life issues, and also will not be online as much.
Our facebook page as usual has been pretty active with posts, screenshots, and articles from our fleet members. I enjoy reading each one and seeing what everyone is thinking or doing. Again, as usual if you wish to join our facebook page please send search for "101st Fleet" on facebook and request a invite.
Captain Bill – Resignation from Administration Board
Due to RL issues and things occurring, Captain Bill has tendered his resignation from the administration board of the 101st Fleet. Captain Bill will also not be online as much as a result. I would like to take this opportunity to thank Captain Bill for his tireless work with the administration board. Captain Bill has been with the board for over one year and has done great work for the website.
His work with doing alot of the featured ship articles has been a great benefit to the fleet, and a joy to alot of people who enjoy reading the articles. 101st Fleet Senior Commander sincerely thanks Captain Bill for all of his hard work. We also wish him all the best with his RL issues and hope everything gets resolved in a nice way for the good Captain :).
101st Imperial Fleet – New Admiral – Admiral Borok
The 101st Imperia Fleet, the 101st Fleets klingon counterpart, has assigned a new honourable admiral to their ranks of their fine warriors. Admiral Ieon (or Borok has his klingon name) has been named as Fleet Admiral.
We wish Admiral Borok all the best with his new command. Though we do warn the good admiral not to mess with the 101st Fleet :).
Ieon Productions
There have been three new videos from Ieon Productions. These are some great videos and as usually are up the the Admiral Ieons quality work 🙂 you can check them out below.



101st Fleet
The 101st Fleet has reached Tier 5 in engineering on the Fleet Starbase, and we have the Tier 5 engineering upgrade on cooldown. In 7 days the project will complete and the fleet will have access to elite weaponary from the fleet starbase.
Again, thanks go to everyone who contributes to the starbase, I know it helps yourself out, but seeing this fleet always come together to help one another out is great to see. Senior Fleet Command appreciates your efforts 🙂 Thank you.
Also, please remember we do have a Klingon fleet. The 101st Imperial Fleet is looking for honourable warriors to join their cause. Please speak to Vice Admiral Brian or Admiral Ieon about the details.
Cryptic Game News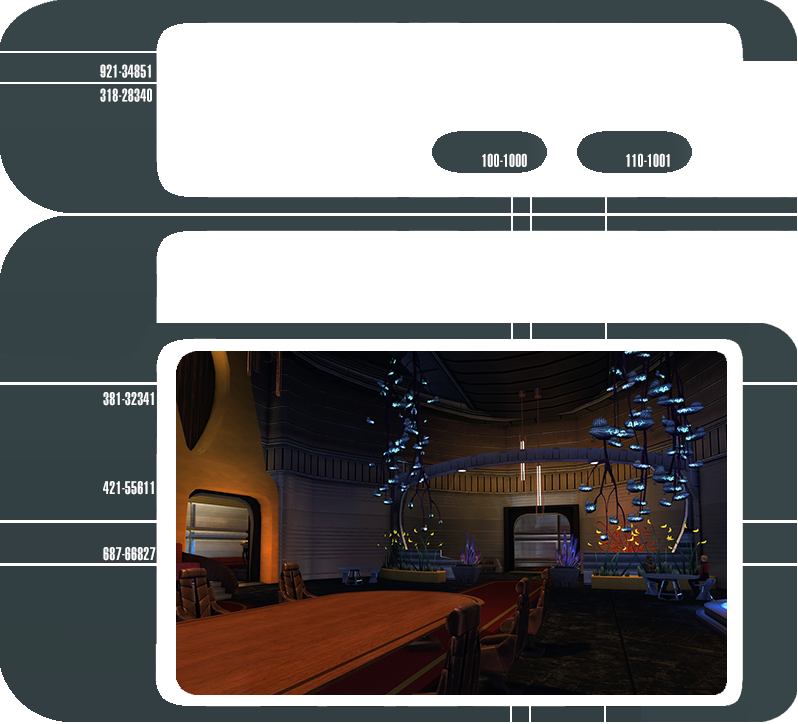 Currently, Cryptic are running a lifetime subscription sale, but you better hurry as it runs out on November 20th. The lifetime subscription sale means you can get a lifetime subscription sale for $200 instead of the normal $300. The lifetime subscription offers alot of goodies, please see a list below.
An Additional Character Slot
30 Bonus Inventory Slots (added as you level)
60 Bonus Bank Slots (added as you level)
20 Bonus Account Shared Bank Slots
2 Additional Bridge Officer Slots (added as you level)
500 Bonus ZEN each month
Increased Energy Credit Storage Limit
Access to an additional 1000 Dilithium Refinement every 48 hours (Doff Mission)
One Captain Retrain Token per rank
Access to gaining Veteran Rewards
No low-level Chat Limits
Priority Login
Access to our test server, Tribble to test and check out new content!
Play as a Liberated Borg or the NEW Talaxian race
Instant Access to all Veteran Rewards
Access to the Captain's Table – A special area restricted to lifetime subscribers and veterans!
Exclusive costume insignia – visit a tailor in-game to add it to your Captain
"Career Officer" title – Show off your commitment
Special Forum Perks and more!
New Episode – "What's Left Behind"
Cryptic have released another new episode that takes place in the Delta Quadrant. "Whats Left Behind" is a lvl 60 required mission that takes place after the Vaadwaur arc, and continues the story.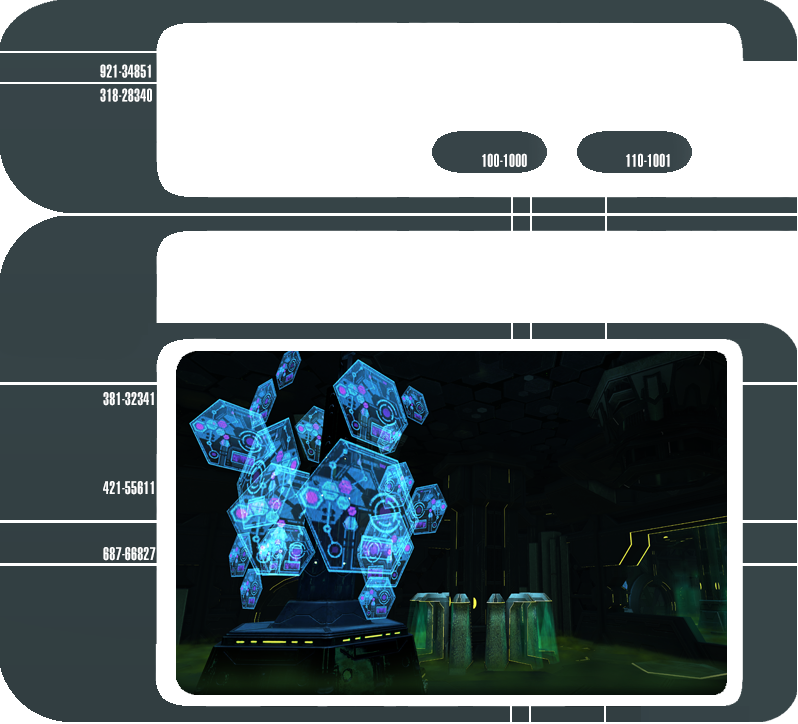 I have placed the mission, theres not that much heavy combat you need to do, and is a fairly well placed episode. It does seem rather short, however that could have been due to the fact that I was enjoying it so much I didnt know where the time went 🙂
If your level 60, I encourage you to check this mission out only AFTER you have completed the vaadwaur arc, for reasons you will see in this mission :).
Club 47 is returning
Thats right ladies and gentleman, Club 47, that was in the old Earth Space Dock, and has been absence since the new ESD has been in place, is returning 🙂
For you who dont know, Club 47 was a dance/bar club style of place where you could get boogie with it (and No, I'm not that old guys :)) mingle, and also it was where at the time you received the "Tour the galaxy" race event.
Below are some pictures of the club.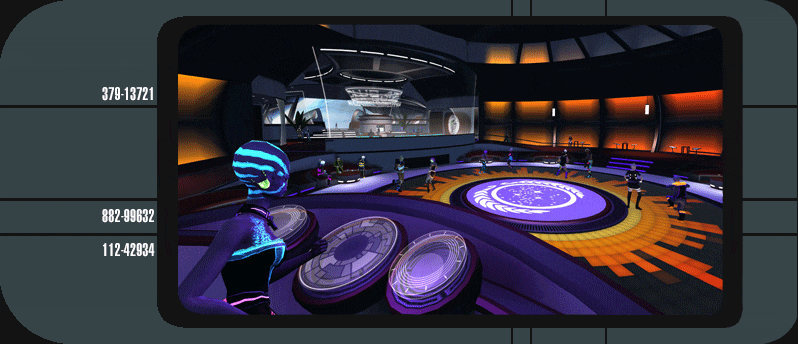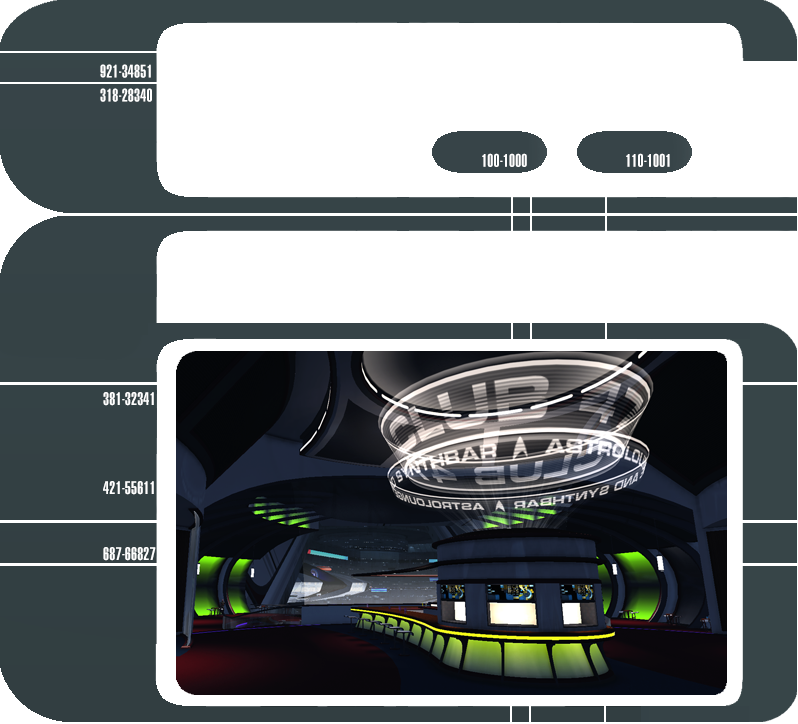 At this time, we do not know when Club 47 is going to be re-released, but if Cryptic have done a blog about it, it must be coming real soon. Stay tuned folks 🙂
Equator Alliance News
There hasn't been much news of late for the alliance. However, we have had a new fleet join the alliance. The honourable Klingon fleet Bloodbath and Beyond has joined the alliance. This is a major thing as it helps increase the number of klingon fleets in the alliance.
So if you see in equator chat a Bloodbath and beyond fleet member introduce themselves, please make sure you give them a warm welcome courtesy of the 101st Fleet (and NO, I don't mean shoot them 🙂 ).
Communications
Also, please remember to always keep your team chat window open, in case something happens and a team member needs assistance or a team lead issues a order, you will need to have your window open to see it. This is to ensure everyone has fun, but can still keep communication open to ensure that we give the best possible chances to successfully complete a mission or STF.
Final Notes
Next Months "State of the Fleet" will be posted on Saturday 20th December 2014. As we get to the end of the year, we can expect more exciting things coming from Star Trek Online and the 101st Fleet as a whole 🙂 With Christmas just around the corner as well as Q's Winter wonderland, I am sure it is going to be great 🙂 .
This is Admiral Aaron, Wishing everyone a great day, happy warp speed, and I will see you ingame 🙂